7 Elegant Bengal Handloom Sarees Every Saree Lover Must Look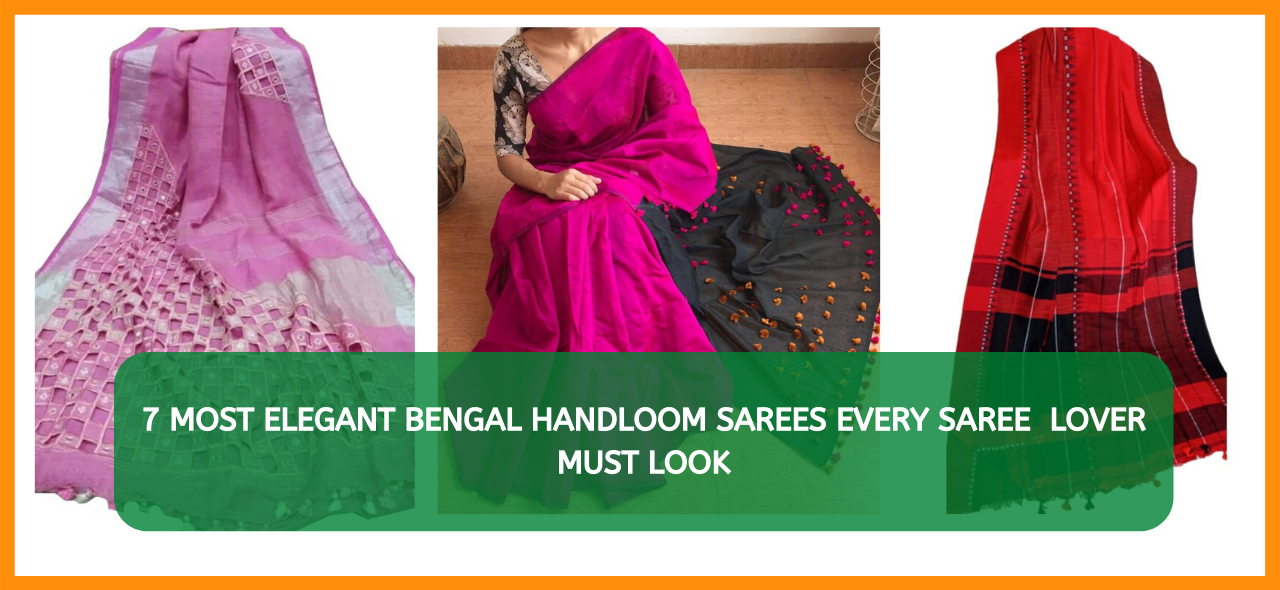 Handlooms are a traditional textile art of Bangladesh and India. Handloom refers to wooden frames of different types, which are used by skilled artisans to weave fabrics usually from natural fibers like cotton, silk, wool, jute and completion of a single handloom saree takes two to three days of work. Several regions have their own tradition of handloom saree. Traditional handloom saree are two types, cotton, and silk. Once you see the texture, color, and quality of Bengal saree, it attracts you. This Bengal sarees are quite lightweight and unique to other handlooms traditional saree. Bengal is the home of several sarees like jamdani saree, tant saree, baluchari saree, murshidabad silk saree, garad silk saree, tusser silk saree, kantha stitch silk saree.

JAMDANI SAREE
Jamdani is a fine textile of Bengal, Produced from narayanaganj district of Bangladesh. Jamdani work is originally known as dhakai. Jamdani is a time consuming and labor-intensive form of weaving because of the richness of its motifs. Jamdani patterns are mostly of geometric shapes and floral designs. These saree takes around two months to weave one saree. Before partition, jamdani was produced Dhaka only. A major part of jamdani is now produced in the state of West Bengal. The origin of jamdani weaving is a tradition of Bengali. Jamdani work is mainly used for saree. Jamdani is a fine muslin cloth on which decorative motifs are woven on the loom, typically gray and white. Jamdani saree is quite unique in its nature and this saree crafted from Resham silk and very light in weight. In this current situation, the government and other organizations are trying to revive the old glory of dhakai jamdani in a tender to avoid the middlemen. They are trying to establish direct contact with the weaver. Many organizations like the national institute of design and others are helping designers to create new jamdani design. The demand for jamdani sarees increased exponentially over the year.
TANT SAREE
Tant saree is a traditional handloom of Bengal, this saree traditionally made by the weavers from Bangladesh and west Bengal. These sarees are characterized by a thick border and decorative pallu. These sarees are woven by traditional and artistic motifs. Tant saree are two types, cotton, and silk. Ta Bengali female always prefers cotton tant saree on a regular basis and too much demand in every season. These sarees are comfortable to wear for its light weights and made of soft cotton thread. This saree comes in a variety of attractive colors. According to modern trends, a variation of the traditional tant has zari work woven into borders and pallu.
BALUCHARI SAREE
Baluchari saree originated from baluchar village of mursidabad, west Bengal. These sarees are mainly worn by the women of India and Bangladesh. These sarees are handwoven and take a week to be woven. Manufacturing of a baluchari saree is a time-consuming process. The designs of baluchari sarees come from the mythological character of Ramayana and Mahabharata. These mythological characters give a royal look to the baluchari saree. The most popular design of baluchari saree is, the lord Krishna explaining the bhagbat gita to arjun. These mythological designs make a baluchari saree perfect for occasions and festivals. The baluchari saree categorized based on the thread used in weaving the pattern. Baluchari sarees are mainly worn by the zamidar women from upper class households in Bengal. The baluhari saree was the one of the main weaving styles in the year of 2009 and 2010.

KANTHA STITCH SAREE
Kantha stitch is a type of embroidery craft of the Bangladesh and India. This is one of the oldest forms of embroidery that originated in India. Kantha stitches also known as naksha kantha. This saree is traditionally worn by women of Bengal region of the India subcontinent. The kantha embroidery cloth has many uses like shawls, cover, cuisine, saree. The kantha stitch used mainly on saree. These sarees embroidered free-hand without tracing. Artisans are skilled enough to stitch evenly spaced spiral or lines. Kantha stitch is like running stitch, the entire cloth is covered with running stitches. The beautiful motifs of kantha stitch are flowers, animals and geometrical shapes as well as themes from everyday activities. Kantha stitch hand art is being recognized by the international fashion industry.
GARAD SILK SAREE

Garad silk is one of the popular styles of saree that has its origin in West Bengal. These sarees also known as gorod, it means white. Garad sarees are distinguished by its red border and small motifs. These sarees are generally having white and off white body. The color white is regarded as symbol purity. These sarees are mainly worn by Bengali women on special occasions, festivals. The murshidabad district of west Bengal specializes in weaving of these sarees. The borders of gorod sarees are distinctive in colors, mostly red and maroon. Garad saree is popular among the bollywood beauties like bipasha basu, rani mukharjee.kajol, drape them in garad saree to perform the ceremony of Durga puja. The fashion designer Neeta lulla have showcased their creative design of garad saree on the fashion runway.
MURSIDABAD SILK SAREE

Murshidabad silk saree is a traditional handloom saree produced in the mursidabad district of West Bengal. These sarees are light in weight and come in a variety of colors. The popular part of this saree is its colorful designs. These sarees are easy to draping and women are using it for formal or casual wear. These sarees are the best quality of saree of Bengal.

Tussar Silk Sarees

Tussar silk sarees are also known as kosa silk saree. These are made from silk, and silk is produced from silkworms. A lot of Indian's tussar silk saree production happens in Bhagalpur in Bihar. Tussar silk sarees from Bengal design patterns are coming from classic to modern themes. These sarees are worn by Bengal and Indian women's on festivals and occasions. The tussar silk saree is extremely durable. The sarees are decorated with fine designs; these sarees are mainly valued for its texture, charm and natural gold colours.